HOW TO "DO FONDUE"
Fondue may have been the highlight of your parents 70's cocktail parties, but that doesn't mean it's not still cool. Fondue is not only good for sharing with lots of friends, but also just for the family. In fact, it's one of the most family friendly and fun dinners we do at our house.
For our Fondue nights, I like to make lots of different cut up veggies. It's a great way to get my son to try new vegetables, especially when they are smothered in cheese sauce. I also incorporate bread and usually some diced ham. This makes a huge dinner that leaves everyone stuffed.
Fondue is really easy to make too. You can make it with just about any type of easy melting cheese you like. I just start out with a simple flour and butter roux. After cooking your roux, just add some wine, bring it to a bubble and then remove from the heat and add the cheese. For extra flavor, I also like to add a little nutmeg and grated garlic. This makes it so incredibly good.
After your fondue is all melted, just transfer it to a small fondue pot. We have a simple fondue pot that is heated with a candle. There are more elaborate fondue pots on the market that are electric, but the simple ones work just as well.
After you have your cheese fondue ready to go, and all the veggies ready for dipping arranged around the fondue, it's time to eat. Everyone grabs their own little fork and dips their veggie into the creamy fondue.
After everyone is stuffed with cheesy goodness, it's time for round two, the dessert fondue. This is my personal favorite. But really who doesn't love dipping fruits into warm chocolate sauce?
For our chocolate fondue, I just melt some chocolate in heavy cream and add a little vanilla and chocolate liqueur. It's really simple to do. I then serve it with fresh berries, bananas, marshmallows, and other goodies.
The only downside to an incredible fondue dinner is the dishes as you can see. You need a separate dish for every food item that you have, so that creates quite the mess. Thankfully I have my KitchenAid® 24" 6-Cycle/7-Option Dishwasher to help me out with all these dishes.
I just load up all the cheesy, chocolaty messy dishes and let it do it's magic. Without even prewashing, my dishes come out perfectly clean and spotless. It really is such an amazing machine and so incredibly quiet too.
Cheese Fondue
INGREDIENTS
1 tablespoon butter
1 tablespoon flour
1/4 teaspoon salt
1/8 teaspoon nutmeg
1 clove garlic, grated
1 cup dry white wine
4 oz shredded Butterkase cheese
4 oz shredded Fontina cheese
2 oz shredded Asiago cheese
Ingredients for dipping
Broccoli florets
Baby carrots
Quartered mushrooms
Diced black forest ham
1 baguette, sliced
Cherry tomatoes
Grapes
Sweet snacking peppers
Apple slices
Assorted crackers
DIRECTIONS
Add butter to a small skillet and melt. Whisk in flour and salt. Cook over medium heat for 2 – 3 minutes, or until mixture smells nutty. Add nutmeg and garlic. Whisk in wine and bring to a boil. After sauce has thickened, remove from heat and add shredded cheese. Whisk until melted. Transfer to fondue pot.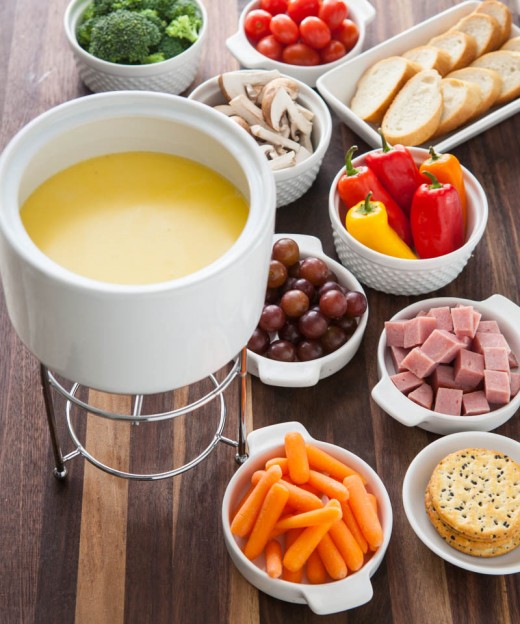 Print
Chocolate Fondue
INGREDIENTS
1 cup heavy cream
12 oz chopped milk or dark chocolate
1 teaspoon vanilla extract
2 tablespoons chocolaté liqueur
Ingredients for Dipping
Raspberries
Strawberries
Sliced bananas
Danish butter cookies
Pretzels
Marshmallows
Chocolate wafer rolls
DIRECTIONS
Add cream to a small saucepan, and warm over low heat. Heat through till steaming, but do not let boil. Add vanilla extract, chocolate liqueur and chopped chocolate. Whisk well until chocolate has melted. Transfer to fondue pot and light candle for fondue to keep warm.
Serve with assorted fruits and cookies for dipping.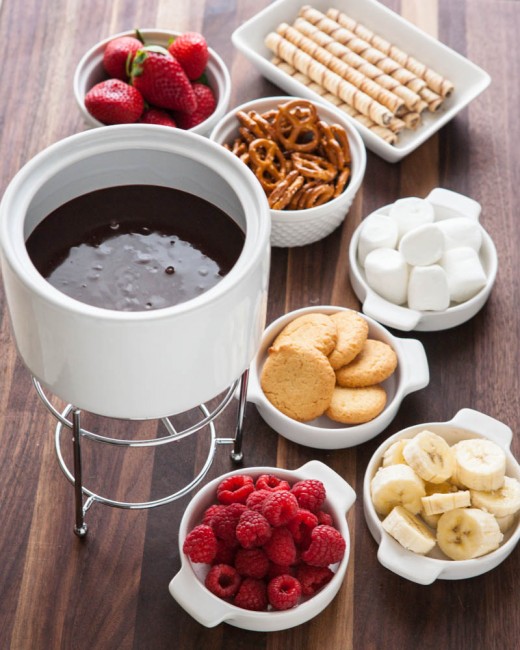 Print